מאמרים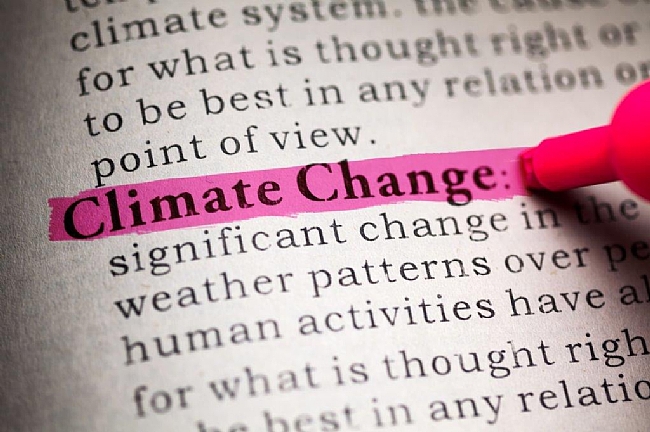 2020
Migration, environment and climate change: Responding via climate change adaptation policy
With the advance of climate change and environmental changes threatening livelihoods, their impacts on migration and displacement are receiving increasing attention in research, politics, and civil society. The issue is complex and multi-dimensional, with environmental changes affecting human mobility in diverse ways. The three reports in this series thus evaluate the evidence base for policymaking, and provide entry points for responses in the field of climate change adaptation
מידע נוסף 2011
Climate Change and Migration: Rethinking Policies for Adaptation and Disaster Risk Reduction
Climate change due to greenhouse gas emissions is now, at some level, a fact. IPCC and other scientific bodies have modeled a number of future scenarios estimating changes in weather patterns, ocean currents, and (more recently) ecosystems. Average atmospheric temperatures are increasing and with this increase scientists expect (and in some cases may already be observing) more rapid melting of the earth's ice sheets, sea level rise, and greater seasonal variability in rainfall. They are documenting more frequent storms and intense flooding in some areas, and severe and prolonged droughts in others, predicting further water scarcity, diminished food production, and unemployment. With the increase in natural disasters, vulnerable communities (those with weak support systems, governance, and capacity to respond) are most at risk. Many may be displaced or increase their reliance on migration as a coping strategy for survival. The rise in humanitarian crises presents enormous challenges for poorer countries and the international organizations called on for assistance. These challenges are exacerbated by the lack of consistent policies, standards, and practices in disaster planning related to human displacement and migration. As the findings of the Academy and case studies presented in this volume reveal, human mobility is not always adverse to community development but in some circumstances may help build resilience. Better understanding the opportunities and impacts of migration, and how to protect those displaced by disaster, can help governments to improve their climate adaptation strategies. So, too can improving cooperation among neighboring states with shared natural resources and among countries of migration origin and destination. To do this effectively, governments will need to rethink existing disaster planning, migration policy, and institutional frameworks. The findings and recommendations in this introductory chapter are the result of the 2010 Summer Academy on Social Vulnerability organized by UNU-EHS and MRF from July 25-31, 2010 in Hohenkammer, Germany. They provide a foundation for further consideration of how governments can better manage displacement and migration related to climate disasters. The papers that follow this introductory chapter in Sections 1 and 2 below are the selected work of Academy participants who undertook specific case studies as part of their graduate or post-graduate work and in preparation for the program. In some circumstances they refined their analysis to incorporate their learning experience. The compilation of works is not meant to represent a comprehensive study of all issues relevant to climate-related migration. Rather, the individual studies provide a unique, in-depth focus on various aspects of the issue and on multiple regions where climate change impacts may be significant. They suggest new avenues for research, policy, and law that may be relevant to decision makers in affected regions, and bring a greater depth to the issues discussed by the Academy.
מידע נוסף 2010
Climate change, environmental degradation and migration
Climate change will have a progressively increasing impact on environmental degradation and environmentally dependent socio-economic systems with potential to cause substantial population displacement. The key concerns in Less Developed Countries (LDCs) will include serious threats to food security and health, considerable economic decline, inundation of coastal areas, and degradation of land and fresh water resources (Reuveny in Polit Geogr, 2007). The relationship between environmental change and potential humanitarian crises has been captured by: McGregor (Geography and refugees: patterns and processes of change, Belhaven Press, London, pp 159–70, 1993), Kibreab (Environment and Population Change, International Union for the Scientific Study of Population, Liège, 1994), Kibreab (Disasters 21(1):20–38, 1997), Myers (Bioscience 43:752–761, 1993), Myers and Kent (Environmental exodus: an emergent crisis in the global arena, Climate Institute, Washington, DC, 1995), Black (New Issues in Refugee Research, Working Paper no. 34, 2001), Lee (Environmental matters: conflict, refugees and international relations, World Human Development Institute Press, Seoul and Tokyo, 2001), Castles (Environmental Change and Induced Migration: Making Sense of the Debate Working Paper No. 70, 2002), Christian Aid (Human tide: the real migration crisis, Christian Aid, London, 2007), and Massey et al. (http://​www.​psc.​isr.​umich.​edu/​pubs/​pdf/​rr07-615.​pdf, 2007). However, we know little about the interplay between environmental change and stresses on ecological systems, resulting socio-economic vulnerability and potential outcomes in terms of population displacement or induced migration. So far these relationships are poorly conceptualized, lack systematic investigation, and are reduced to simplistic causal explanations. This leads to misleading conclusions that deny the complex multivariate processes—environmental, political, social, and economic— which are the root causes of environmentally induced migration and/or conflict. When people are faced with severe environmental degradation they have one of three options: (1) stay and adapt to mitigate the effects; (2) stay, do nothing and accept a lower quality of life; or (3) leave the affected area. The process of movement and migration is usually subject to a complex set of push and pull forces, where push forces relate to the source area while pull factors relate to the destination. These forces are in constant flux, as much as environmental change, and interact with socio-economic and political conditions including state or government decision making powers, which can tip the balance at any point by either denying movement or the right to settle elsewhere. The paper focuses on how environmental change and environmental hazards contribute to the migration by exploring the mechanisms through which vulnerability and migration are linked—via livelihoods, relocation policies, and other factors. The paper begins by outlining important definitions of what is environmentally induced migration. The paper also considers the question of whether migration is a process that reduces or increases vulnerability. The paper draws on multidisciplinary literature including ecology, environment, and climate change; sociology of migration; anthropology of displacement; and economics; but also on preliminary from various case studies in Egypt, Vietnam, and Mozambique.
מידע נוסף